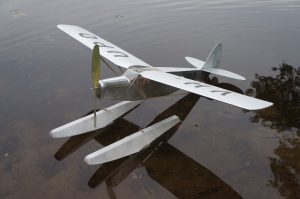 View/Purchase Folded Depron Float Plan
Recently, I met a few guys who fly free flight models off the water in Southern Vermont. They spoke of 2 minute flights with rubber powered models on floats. One of them, Jim Woolnough, had developed a spring loaded pivoting float that enabled his rubber models to ROW consistently at less than max winds.
I had to know more and give this a try.
Continue reading "Build A Simplified Folded Depron Foam Float"