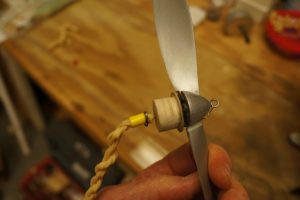 This 4th short video in our My Favorite Tools series includes:
The right pliers for the job (roundnose, needlenose, etc)
Why make a Figure 8 prop hook?
Bending the Figure 8 prop hook
Loading the rubber motor onto the prop hook
Overview of other front end components (e.g., winding hook, free wheeler)
We install Figure 8 propeller hooks on all of our small (Peanut) to medium sized (up to 36 inch wingspan) rubber powered models.
This prop hook is simple, lightweight and easy to make. Its main advantage is that it prevents the rubber motor from "climbing" the prop hook and fouling the prop shaft, especially with longer motors used to maximize flight duration.
An efficient front end that smoothly delivers power from the rubber motor to the propeller is one of the keys to high performance.
Larger models with larger rubber motors often use a more traditional inline prop hook along with a device like a "Crockett Hook". This more specialized front-end is not discussed in the short video presented here. Stay tuned for that
See more videos in this series here
A brief video tutorial on the prop hook recently installed on our Miles M.18 and Curtiss Falcon models