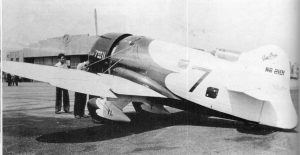 Zantford Granville's Double-Hinged Flap
Did you know Zantford Granville was among the first, if not the first in the U.S. to patent a flap system to control aircraft airspeed and increase lift, especially while landing? And Zantford, or Grannie as he was called, didn't even have a formal high school education.
It's well-documented by the folks who were there, that despite their high wing loading and high landing speeds – the big Gee Bee racers of the early 30's did tend to "float" in ground effect. This is a main reason why the original R-1 and R-2 racers, like the Model Z before them, would takeoff from the 2,000 ft runway at Springfield Airport and land at the longer airstrip at Bowles Airport across the Connecticut River in Agawam, MA.
Even Jimmy Doolittle, ace pilot of the iconic Gee Bee R-1 that set a world landplane speed record at Cleveland in 1932, had some difficulty getting the big Gee Bee back on the ground. In this short Movietone video clip (left sidebar also), the announcer states that Jimmy has to "go-around" due to congestion on the landing strip. Looking closely at the video, there is also evidence of the "floating bugaboo" that Bob Granville later recounted in his Gee Bee's in '33 article for Sport Aviation. The R-1 must have been a handful to land, but clearly the airplane is stable all the way, exhibiting none of the instability often attributed to the R-1. Neither the R-1 or R-2 had flaps installed for the National Air Races in 1932.
Russ Boadman's landing mishap in the R-2 while preparing for the 1933 National Air Races, gave Zantford Granville an opportunity to build a new larger wing for #7 with his new double hinged flap system. Grannie had designed the flaps for the new C-Series commercial transport aircraft that the Granville Bros were building at the time. Bob Granville recalled that the new flaps worked well, reducing the R-2's landing speed from 100 to 65mph and it wasn't long before Boardman was landing the racer on the short airstrip at Springfield Airport.
Still, some pilots, even good ones, clung to their old ways. On returning the R-2 to Springfield from Indianapolis after its aborted bid for the 1933 Bendix race, top racing pilot (but new to Gee Bee) Jimmy Haizlip, while practicing landings in the R-2, opted to sideslip #7 into Bowles Agawam Airport instead of using the flaps. He lost control, wrecked the airplane, and fortunately walked away. Vern Clements' Full Scale Replica Gee Bee News dated 12/29/91 at the time of Delmar Benjamin's first flights in the Wolf/Benjamin Gee Bee R-2 replica, cites Pete Miller, Granville Brothers Chief Engineer in 1932-33, as knowing that "only a couple of pilots were possibly qualified to fly the fast "R" Gee Bees with their heavy wing-loading figures for that day. Later those figures were acceptable…. Gee Bee R-2 replica builder Steve Wolf commented "The wing-loading is comparable to flying a P-51 without flaps." Mr Clements states in his newsletter: "The Granville/Miller design was ahead of the times!"
Vern Clements, an aeromodeller of note, spent 6 years of drafting board work, drawing Gee Bee model plans which would become a primary reference for the Wolf/Benjamin R-2 replica. In his 12/29/91 newsletter, Clements shared that "slight washout was built into the Replica R-2 wings for improved lateral control management."
Which brings us full-circle to our most recent Aeromodelling post, where Doug Beardsworth, having built slight washout into his Gee Bee R-1 free flight model, states his surprise at his R-1 model's buoyancy when test gliding – and his thinking that the rotund fuselage shape may be contributing to this "floating" effect.
Flying scale models often exhibit some of the unique flight characteristics of their full-sized counterparts and sure enough, that seems to be the case with Doug's Gee Bee.
In closing, we'd like to note again the creative genius of Zantford Granville. While the wing flap was not new in 1933, having been employed in aircraft of the First World War (Breguet 14) and developed in the U.K. (Handley Page), Grannie invented a unique double-hinged flap for fast airplanes that foretold of future designs. His Double-Hinged Flap System was awarded what appears to be the first U.S. Airplane Flap Patent #2,006,391 in July 1935 after his untimely death. Subsequent Wing Flap System patents were granted to United Aircraft, Charles Hampson Grant (another aeromodeller), and Boeing in the post-WW2 years.
References:
Gee Bee in '33, Sport Aviation, Robert H. Granville 2/1977
Farmers Take Flight, J. I. Dakin, 2000
Full Scale Replica Gee Bee News, Vern Clements 12/29/91
Download:
"One problem which needed to be licked was the fact that both ships…would float when close to the ground"

Robert H. Granville
Gee Bee in '33

 Click to Watch Video
  Click Images to Enlarge