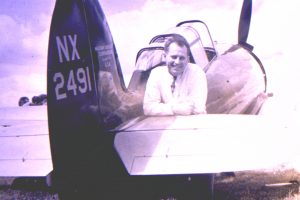 The story attached is as transcribed from a tape recorded conversation between Mr. Howell (Pete) Miller, Ron Harrison and Tom Nallen on January 28, 1978. The events described are those concerned with and related to the last flight of the MAC-1 aircraft.
Several accounts of the last flight of the MAC-1 have been published (References). The story presented here provides significant additional detail. This account, shared first-person by the designer of the original aircraft and principal of the Military Aircraft Corporation, is definitive.
The attached document is presented unaltered, in digital format.
Several photographs, acquired around the time of the interview, are presented for perspective and reference. Please excuse their less than optimal quality.
Background
After the Granville, Miller and deLackner firm GMD produced the R6H Q.E.D. for the 1934 MacRobertson Race, Pete Miller was contracted by famed flyer Frank Hawks to build a new fast long distance racer.
With ex Granville Aircraft workers on the team, Time Flies was rolled out of the hangar at Springfield Airport in October, 1936, just four months after work had begun. Hawks made several record-setting short distance flights in Time Flies, but the aircraft was seriously damaged in a mishap with the retract landing gear on a return flight from Miami.
In 1938, Hawks sold Time Flies to a group of investors who sought to convert the aircraft to a two-seat military aircraft. Miller joined the group to engineer and oversee the modifications, after which the aircraft was re-named MAC-1. Flight tests confirmed phenomenal performance for the time – 360mph top speed and 6,000 feet per minute climb.
MAC-1 was entered in the 1938 Thompson Trophy race and finished in 4th place, with pilot Leigh Wade flying throttled back to conserve fuel. Earl Ortman finished 2nd in that same race flying the Marcoux-Bromberg Rider R-3. Ortman, a top racing pilot, flew the big radial engine R-3 to three consecutive second place finishes in 1936, '37 and '38. In 1937, he was famously nosed out at the finish line by a diving Rudy Kling in the Folkerts SK-3 "Pride of Lemont".
After the 1938 National Air Races, Ortman was contracted by the Military Aircraft Corporation for additional flight testing intended to help procure a military production contract.
This is where the story of the final flight of the MAC-1 picks up.
Postscript:
MAC-1 is the subject of a 24 inch wingspan free flight rubber powered flying scale model by Tom Nallen2. The model is an excellent flyer, proving again that free flight flying scale modelling is one of the best ways to make aviation history come alive.
Build one for yourself and see!
References:
Miller, Nallen, Harrison Conversation, recorded 1/28/1978
Tough Luck Inc. The Story of Gee Bee, Walter T. Bonney, Dec. 1939
Farmers Take Flight, J. I. Dakin (Granville), 2000 (available here)
Built for Speed, The Story of Race Plane Designer, Howell Miller, An American Aviation Genius; Walter Boyne, Wings 1978
1938 Military Aircraft Corp. HM-1 -24in wingspan (model), the Gee Bee.com
Download:
MAC-1 Large Format General Arrangement Drawing
Designer Howell "Pete" Miller shares his story of the final flight of the MAC-1
  Click Images to Enlarge