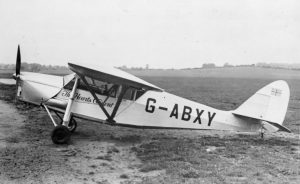 Featuring Press Release photos from the Len Wieczorek collection
The Great Depression started in the U.S. with the market crash in October, 1929 and the economic impact was felt around the world. Despite this, aviation technology advanced by leaps and bounds. The D.H. 80A Puss Moth was part of that revolution in the sky.
With the Gipsy Moth biplane and other Moth designs, the English private, commercial and military aircraft manufacturer De Havilland Aircraft spurred interest in aviation through the 1920's. Pilots wanted to fly further, faster and in more comfort and in 1930 De Havilland launched their enclosed cabin Puss Moth monoplane into the expanding global market to meet this need.
Improved streamlining via an inverted 120hp D.H. Gipsy III engine and a low-drag wing center section helped the Puss Moth achieve stellar performance for its time. Very soon, pilots were mounting large-capacity fuel tanks and embarking on long distance flights. While the Gee Bees were setting speed records around the pylons in America, the Puss Moth was setting trans and intercontinental long distance records.
Australian Puss Moth VH-UQO flew from Darwin Australia to London England to compete in the 1934 MacRobertson Race and finished third in the handicap section with an average speed of 103mph.
Perhaps the most famous of the long distance Puss Moth flights was Jim Mollison's August 1932 first East-West transatlantic flight in his D.H. 80A "The Heart's Content".
Like many aircraft of the time, the Puss Moth suffered it's share of misfortune and tragedy. Wing flutter at high-speed in turbulent weather resulted in several fatal accidents, including famed Australian pilot Bert Hinkler who crashed while crossing the Alps on a long distance flight in 1933. Authorities grounded the D.H. 80A Puss Moth for several periods during 1930-1933, and the wing structural weakness continued to plague the otherwise excellent aircraft until the outbreak of WW2.
The fourth production Puss Moth was shipped to De Havilland Aircraft of Canada in Toronto and was piloted by Geoffrey O'Brien in the Great Trans-Canada Air Pageant of 1931. This aircraft, registered CF-AGO and seen in the period press release photos at right, was said to be "exactly like the one owned by the Prince of Wales". Evaluation of CF-AGO led to a number of Puss Moth orders by the R.C.A.F., one aircraft of which is also pictured here.
The D.H. 80A Puss Moth was designed for water as well as land operations and production aircraft were delivered with fittings for floats. CF-AGO was fitted with floats for a period during its evaluation and demonstration by De Havilland Aircraft of Canada.
A.J. Jackson's book De Havilland Aircraft since 1915 (Putnam) cites that 284 Puss Moths were constructed in total, with 259 built at DH's Stag Lane facility in England and another 25 assembled by De Havilland Aircraft of Canada in Toronto. Australia was seen as an attractive market for the Puss Moth and Geoff Goodall's excellent Aviation History Site chronicles the history of the 13 D.H. 80A aircraft registered in that country.
Goodall states that in Australia, the 3-seater Puss Moths were flown on early airline services by Qantas, New England Airways, North Queensland Airways and Airlines of Australia. The wing flutter weakness grounded Puss Moths in Australia in the early 1930's as well. A passage he relates from Aussie flyer Arthur Butler's book Flight clearly illustrates the pain these groundings caused in the Depression-wracked Australian flying community.
One of the Australian Puss Moths, registered VH-UPO, was mounted on floats and christened "Puss in Boots". Several good photos of VH-UPO on floats are published on the Ed Coates Collection website. Piloted by by Capt. R. Reid, this aircraft completed an extensive tour of South Pacific islands in 1931.
"Puss in Boots" is the subject of a 32 inch wingspan free flight rubber powered flying scale model by Tom Nallen2. The model is an excellent flyer consistently taking off and landing on the water very realistically – proving yet again that scale modelling and especially free flight flying scale is one of the best ways to make aviation history come alive. Build one for yourself and recreate some of the history of the pioneering D.H. 80A Puss Moth!
References:
D.H. 80A Puss Moth Press Release Photos, Len Wieczorek collection
De Havilland Aircraft since 1915, A.J. Jackson (Putnam), 1962
Geoff Goodall's Aviation History Site , Internet
Ed Coates Civil Aircraft Photograph Collection, Internet
DH Puss Moth – 32in wingspan (model), the Gee Bee.com
While the Gee Bee's were setting speed records around the pylons, the Puss Moth was setting transcontinental long-distance records
  Click Images to Enlarge