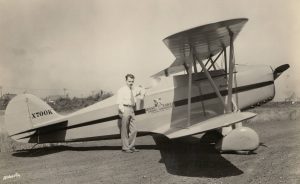 Great Lakes Trainer – Gee Bee Competitor Extraordinaire
In a recent post Mystery of the Gee Bee X, we told the story of the last flight of the Gee Bee X in September, 1931 in Brattleboro, VT. A year before, the Model X and its pilot Lowell Bayles won 2nd place among 18 entries in the 1930 All-America Derby, a coast-to-coast, city-to-city reliability tour of 6,553 miles for Cirrus engine powered aircraft.
In a 1980's conversation with Tom Nallen, Robert Granville reminisced that at each stop along the tour, Bayles would approach to land with the X inverted at 50 or 60 feet, snap roll and drop the airplane into a perfect 3-point landing. This aerobatic show by the top finishing production aircraft in the race helped put Granville Brothers Aircraft on the worldwide aviation map and solidified Bayles' reputation as a rising star among American racing pilots.
Heady stuff. But there was another production lightplane that made a mark for itself in the 1930 All American Derby, and this one was a Trainer! Yes, four of the top ten finishers in the Derby were Great Lakes Sport Trainers – capturing the 3rd, 5th, 9th and 10th spots.
The Great Lakes Aircraft company opened on January 2, 1929 with the Great Lakes Trainer, 2T-1 – two place trainer model No. 1. The first airplane was built in 60 days and put into flight test by Charlie Meyers. The original straight-winged design (pic at left sidebar top) had spin and stability problems caused by a rearward center of gravity (CG). In an interview with Harvey Swank published in Skyways magazine, Robert Nightingale, a designer on the Great Lakes team describes how he put sweep back in the upper wing and increased vertical tail area to solve the problem. These changes gave the Great Lakes Trainer its classic look and the modified version (2T-1A) was a stable, maneuverable aircraft that would come out of a spin merely by letting go of the controls. Nightingale described how Charlie Meyers loved to perform outside loops with the Great Lakes Trainer. Despite the limited power of its 90hp Cirrus engine, the aircraft held "many records for the maximum number of outside loops". In his own flight training, Nightingale recalled how his flight instructor said that the Great Lakes was too simple for him to learn to fly in, so he put him in another airplane that was less stable and more cumbersome.
Like the Granvilles, the Great Lakes Aircraft company saw national competition as a way to draw attention to the 2T-1A and prove its reliability and flying ability. Perhaps even generate some much needed cash flow in the process. Like Bayles and his Gee Bee X, Charlie Meyers began to modify his Great Lakes 2T-1A for increased speed and he campaigned the trim little biplane in the classic air races of Aviation's Golden Age.
One of the first opportunities was the 1929 National Air Races to be held in Cleveland, Ohio August 24 through September 2. A number of regional cross-country events were staged to bring competitors to Cleveland as a lead up to the premier closed-course racing events such as the Aerol, Greve and Thompson Trophy races. The 1929 Miami to Cleveland Air Derby was one of these events and Meyers covered the front cockpit, fitted a more streamlined engine cowling and wheel pants, christening his 2T-1A as the Great Lakes "Speedster".
For 1930 and the Cirrus All American Derby, Charlie Meyers further modified his Great Lakes Speedster X700K for increased speed. A more streamlined turtledeck over the front cockpit, lower wing fillets, new wheel pants and another new cowling over the now-inverted Cirrus engine promised yet more speed. A new paint scheme (colors unknown to this writer) completed the transformation.
At this point, Meyers' Great Lakes Special Racer was not technically a 2T-1A as the A in this designation stood for the upright Cirrus or "Ace" installation. Perhaps his racer was the first of the 2T-1E or "Ensign" inverted Cirrus installations that many aviation buffs would come to recognize as the classic Great Lakes Trainer front end.
Meyers finished the 1930 All American Derby in 3rd place averaging 107 mph, just behind Lowell Bayles and his Gee Bee X. Both of them were bested by future Gee Bee R2 pilot Lee Gehlbach flying the low-wing, one-off Command-Aire "Little Rocket". After the Derby, Command-Aire faded into obscurity, Great Lakes focused on production of its Sport Trainer for the private and commercial markets, while the Granvilles set their sights on world speed records with their big Gee Bee racers.
None of these firms survived the Great Depression. The Great Lakes Aircraft Company closed their doors in 1936, having built just 264 Great Lakes Sport Trainers. The firm built several prototype torpedo bombers and dive bombers for the US Navy, but none went into volume production. Great Lakes will always be known best for its sprightly two seat Sport Trainer.
Finally, we've said before that scale modelling is one of the best ways to make aviation history come alive, and we'd like to thank John Koptonak for sharing a few photos of his excellent Great Lakes 2T-1A model. John is a full-sized sailplane pilot, an expert modeler and heads up the long-running Glastonbury Aeromodellers club in Connecticut, USA. Compare the pics of John's model to those of the real thing to appreciate the realism. No flight reports as of yet, but we're betting it'll be a stable flier like its full-sized counterpart.
References:
Great Lakes Press Release Photos, C.W. Meyers from the Len Wieczorek collection
Gehlbach Hold Cirrus Derby Lead, Aviation Week, August 2, 1930
Great Lakes Sport Trainer History, Skyways, July 2008
Four of the top ten finishers in the 1930 Cirrus All American Derby were Great Lakes Trainers
  Click Images to Enlarge